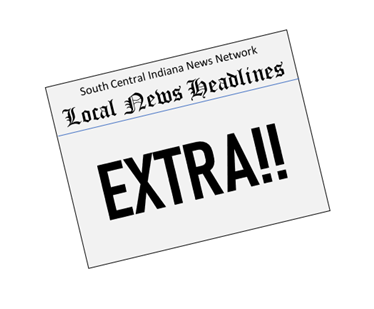 New Hope for Families opens new facility in Bloomington
Thursday afternoon at 5pm, around 100 people gathered to partake in the ceremony, including their Board of Directors, Volunteers, locally Elected Officials, and members of the community. Even through the rain, the onlookers were all smiles, knowing exactly what this organization means to Bloomington.
"This is a life saver, really amazing, because this is exactly what we need," said Bloomington Civic and Political icon Charlotte Zietlow. "This let's families stay together when they are facing homelessness. They have a place where they can rebuild their lives. It's really smart, that's what it boils down to."
New Hope for Families has been helping Bloomingtonians rebuild their lives for more than a decade, beginning in 2011 as a single property emergency shelter operating in a house owned by Bloomington Hospital. In 2015, New Hope added an early childhood care and education program to enable parents to get back to work and prepare children for success in school. The ribbon cutting of the new facility will mark a tripling of service potential to those in need, now being able to provide emergency shelter for up to 12 families at a time, and early childhood care and education for up to 48 children,
The project, which came out of necessity after the Downtown Bloomington Hospital announced its relocation, was an almost $6 Million relocation and expansion. In addition to emergency shelter and case management services, New Hope offers nationally accredited childcare and early learning programs. The organization believes that access to affordable child care enables parents to get back to work, and access to high quality early learning programs helps to prepare kids to succeed in school and in life,
For more information about New Hope for Families, visit www.newhope4families.org.
"Hero's" remains found near Ohio River Dam
Human remains found in southwestern Indiana were identified as 34 year-old Adam L. Thomas, of Kentucky. Thomas was believed to have drowned on January 13th while trying to rescue a woman after jumping into the Ohio River. The Newburgh Police Department called Thomas' actions "heroic" and that it "took great courage." The woman had allegedly been "walking erratically" down the street naked before she jumped into the river.
Sullivan Man Arrested for Child Pornography
Troopers with the Indiana State Police Bloomington District, Indiana State Police Putnamville District, and Internet Crimes Against Children Task Force (ICAC) arrested 41 year-old Justin Falconberry of Sullivan, on charges of possession of child pornography, and distribution of child pornography.
Anyone having any information related to crimes against children is encouraged to contact their local law enforcement agency or visit the NCMEC website at http://www.missingkids.com/home
***Criminal defendants are to be presumed innocent until, and unless proven guilty in a court of law.
Indianapolis Indians Split First Doubleheader of 2022
Behind a 10-hit outpouring from the Indianapolis lineup and multi-hit performances from prospects Rodolfo Castro and Cal Mitchell, the Indians won Game 1 of Thursday night's doubleheader vs. Omaha, 5-3. The Storm Chasers countered and won the nightcap, 6-2. The Indians (1-2) came back from a 3-2 deficit through four innings with a three-run spot in the bottom of the fifth in the night's opening game. The Indians will look to tie the series at two games apiece tomorrow night at 7:05 PM ET at Victory Field. RHP Roansy Contreras, Pittsburgh's No. 4 prospect and No. 80 overall rated by Baseball America, will make his second career Triple-A start and will face off against RHP Daniel Mengden.
This Week in Hoosier History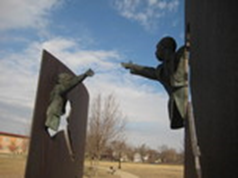 April 4, 1968 – Robert F. Kennedy, in Indianapolis for the Democratic Presidential primary campaign, announced the death of Dr. Martin Luther King, Jr., to a crowd at 17th and Broadway. His impassioned plea for peace on that night is considered one of the great public addresses of that era. (Pictured: The Landmark for Peace sculpture at the Dr. Martin Luther King, Jr., Park.)
For more local news . . .
Check out our archived episodes of What's Happenin' and Talkin' Sports with Nick Jenkinson here