It was slow paced to start off the game, with Indiana getting plenty of offensive touches on each possession, working the ball around the perimeter until they found an opening into the post. UMass Lowell was the first to strike, but that would be the last time they held the lead. UML worked the ball well, effectively using the outside ball screen, but Indiana limited the River Hawks to just 1 offensive rebound in the first quarter and 2 points off of second chances. After 10 minutes of play, Indiana led 22-12.
The second half was more of the same, with Indiana dominating in the paint. By the end of the first half, IU was shooting just shy of 50% with 9 different Hoosiers in the scoring column. Coach Moren was able to rotate 11 of her squad into the first half, allowing the bench to gain some important early season minutes.
By the final buzzer, the bench would amass 42 total points of offense. IU Head Coach Teri Moren said, "On a night where we got to sit our starters, it was great to see those other kids come in and do some great things."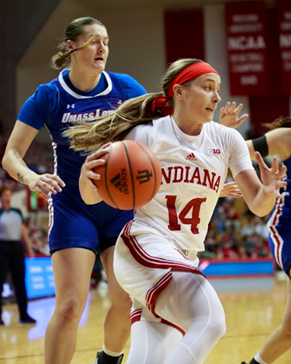 Everything seemed to be working well for the Hoosiers except their 3-point game and percentage at the free-throw line. In stark contrast to their opening game, earlier in the week, Indiana was a mere 2-13 from beyond the arc in the first half. This would begin to alter in the beginning of the 3rd quarter, as Indiana Chloe Moore-McNeil went back-to-back with 3's, followed by a deep shot by Sara Scalia. They would end the game shooting 5-22 from beyond the 3-point line and just 12-20 in free-throw shots.
By the 4th quarter, Indiana's bench was cleared, and continuing the domination over UML. The depth of talent was demonstrated through the quick transition basketball being played. The chemistry looked to be working pretty well for a team with 7 new program players.
"There is no question that this is a group that enjoys being in each other's company," said Coach Moren. ". . . I think it's moving in the right direction. I think time will tell as we move forward. Some of these minutes are going to be different. I hope that our bench can continue to come in and help us, but I know this, experience matters."
The Hoosiers are not short on experience, with 2 returning All-Americans, Senior Mackenzie Holmes and Graduate Grace Berger, as well as Junior Guard Chloe Moore-McNeil. This experienced trio scored 32 collective points in 82 combined minutes of play.
Next up, the Hoosiers travel to Tennessee to challenge the 5th nationally ranked Lady Vols on Monday evening. Tennessee, a Final Four watch-list team, dropped their opener against 14th ranked Ohio State, but defeated the Minutemen of UMass earlier this week.
Game Highlighted Stats
Mackenzie Holmes – 17 points
Sara Scalia – 3/7 3-pointers
Sydney Parrish – 8 Rebounds
Bench Points – 42
Fastbreak Points – 25
Second Chance Points Allowed – 2
Scoring Percentage – 61%
Tune into the South Central Indiana News Network for season-long coverage of Indiana University Women's Basketball