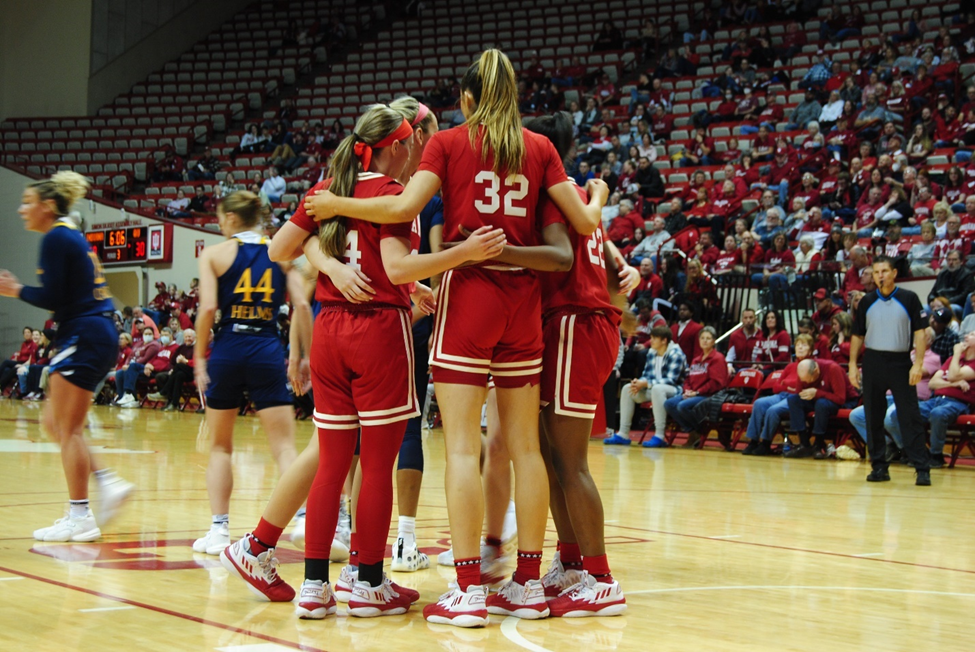 The 12th nationally ranked Indiana Hoosiers (4-0) hosted the Bobcats of Quinnipiac (2-1) on Sunday afternoon at Simon Skjodt Assembly Hall in front of a crowd of about 2900 fans. Indiana handily defeated the Bobcats, 92-55, as opposed to the much closer game the two had experienced a year ago.
The Hoosiers were coming off of 3 home victories as well as one road test, defeating then #5 Tennessee at Thompson-Boling Arena. Indiana has averaged more than 88 ppg, hitting 51% field goals, 34% from beyond the arc, in their first four games.
Quinnipiac came out quickly, shooting the ball really well against the Hoosiers, leading 8-6 early in the game. But Indiana would light it up from 3-point land, hitting 5-9 in the first quarter. Freshman Yarden Garzon sank 3 triples while Junior Guards Chloe Moore-McNeil and Sydney Parrish would each add one, as well. At the end of 10 minutes of play, the Hoosiers had a 25-point edge.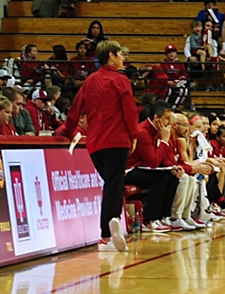 After the game, Indiana Head Coach Teri Moren mentioned that the team had discussed running the court and setting a fast pace, as they did in Thursday's game against Bowling Green. "In seeing what the defense was going to give us, it just so happened that Grace [Berger] found Yarden [Garzon] on a couple of those runouts in the corner," said Coach Moren.  
Coach went on to sing the praises of the Freshman recruit from Israel, "You see the specialness of Yarden in the open floor; her being able to make plays, whether it's to [Mackenzie Holmes], whether it's to the post players running, or whether it's to Sara [Scalia] on the outside or Grace on the outside, or [Sydney Parrish]. She's exceptional when it comes to seeing the floor and making plays that not a lot of Freshman make."
Garzon would sink 14 points, grab 2 rebounds, and provide 2 assists in her 19 minutes during the contest.
The second quarter was more of the same, with the Hoosiers shooting 56% from the field, 46% from the 3-point line, and out-rebounding the Bobcats 17-10 by the halftime buzzer. During the second half, Indiana had 25 points from their bench, a statistic that IU has become accustomed to this season.
The Bobcats did not play poorly, shooting over 40% for the game, 36% of 3-pointers, 11-13 from the line, and grabbing 27 rebounds. Quinnipiac was just completely outmatched today. They will likely mature through the season, and could easily ruin someone's March.
Holmes led all with 22 points and 7 rebounds. Garzon added 14 points, Berger had 13 points and 6 assists, and Graduate Forward Alyssa Geary added 11 points from the bench.
Next up, The Hoosiers will travel to Las Vegas to play in the Las Vegas Invitational against Auburn (Nov. 25) and Memphis (Nov. 26).
Notable
11 Hoosiers scored points
Mackenzie Holmes started the game hitting her first 7 shots and experienced her 18th career game with 20 or more points (22)
2nd consecutive game with 24 or more assists
Grace Berger recorded her 3 consecutive game with 6 or more assists
5th consecutive game that Indiana has not allowed more than 10 second chance points by their opponents
Alyssa Geary score 11 points off of the bench in 13 minutes played
Yarden Garzon hit 4/5 from 3-point land
More IUWBB Coverage