A lighter crowd than one might have anticipated for a Thursday evening home game after returning from Tennessee with a double-digit victory against a top 5 team. But the Indiana Hoosiers did not disappoint the 3700 fans in attendance to see their 12th ranked team dismantle the Falcons of Bowling Green.
Bowling Green was the first to strike, and would follow with a full court press, but Indiana gained composure quickly. The Hoosiers were able to find success in the paint and draw fouls on the Falcons. IU took a 13-5 lead mid way into the first with a 9-0 run and 7 points off of fast breaks.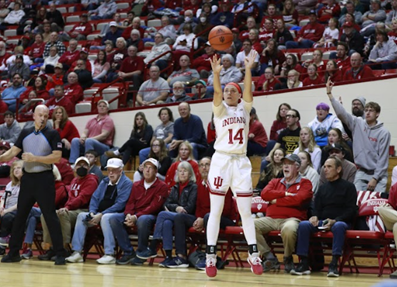 Indiana would take a 28-10 lead after 10 minutes of play, culminating with 3 free throws by Sara Scalia with 1.5 seconds in the quarter. IU shot 62% from the field in the quarter and half of their points were in the paint.
Bowling Green continued their aggressive play into the second quarter, but Indiana could not be caught. The Hoosiers were able to spread the ball around with ease. At the end of the half, IU would lead by 28, and 8 different Hoosiers were in the scoring column.
The second half was more domination! Indiana had 6 players end the game in double figures, with Sara Scalia leading the way, scoring 17, including 2 from beyond the arc. Mackenzie Holmes had 16; Grace Berger had 14; Sydney Parrish and Yarden Garzon each with 11; and, Chloe Moore-McNeil had 10.
The two stats which will be analyzed heavily by the coaching staff, however, are the 18 turnovers, and only hitting 9-13 from the free-throw line.
"Certainly, I'm dissapointed with the 18 turnovers, it's far too many," said Indiana Head Coach Teri Moren, after the game. "The free throw shooting, they know, as I always remind them of how good of shooters they are . . . it's just something we will keep working on."
The Hoosiers will return to Assembly Hall on Sunday, November 20th for a 1pm match-up against Quinnipiac, and then will partake in the Las Vegas Invitational Tournament the following weekend, where they will take on Auburn and Memphis.
Notable
Fifth career Double-Double during the game (11 points and 10 rebounds) from Sydney Parrish, first as a Hoosier.
The Hoosiers outrebounded the Falcons 47-28 and had 25 team assists.
Kaitlyn Peterson came off of the bench to provide 6 points and 4 steals.
IU has held each of their opponents this season to 10 or fewer points off of second chances.
More IUWBB Coverage