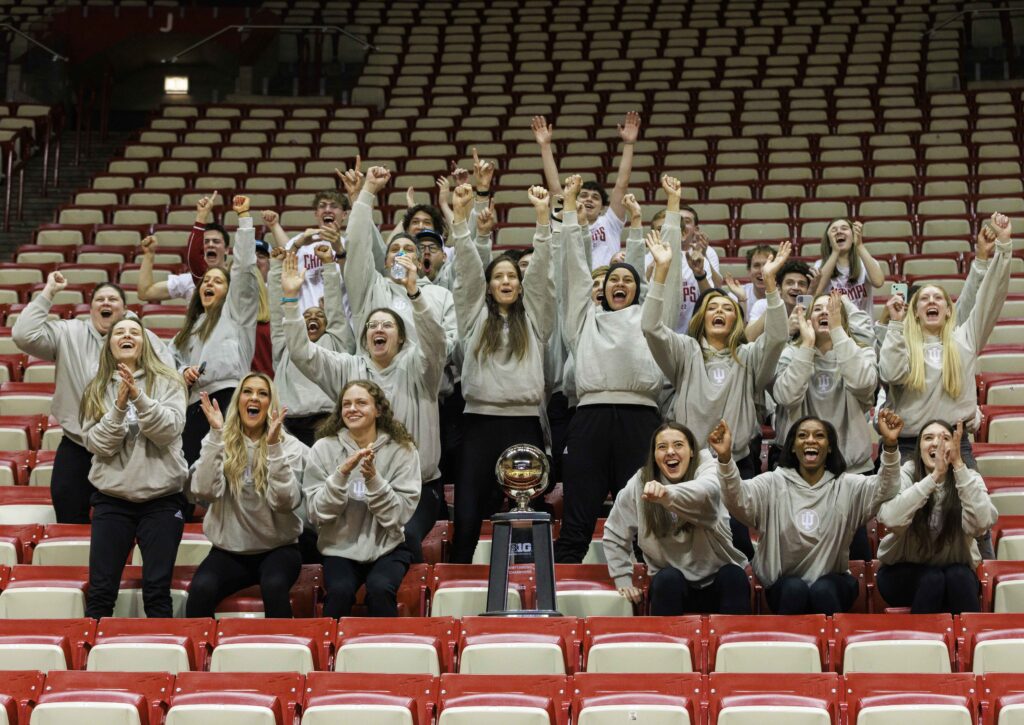 Win a Big Ten Regular Season Championship . . . check.
Earn a Number 1 Seed in the NCAA Tournament . . . check.
Goals are becoming accomplished at an astronomical rate for 2022-23 Indiana University Women's Basketball, and this year they are set to Dance at home for, potentially, the first two rounds, should they win their first game. Their first game will be 11:30am on Saturday at Simon Skjodt Assembly Hall.
Indiana, the Number 1 seed in the Greenville 2 Region, learned of their postseason fate while at Simon Skjodt Assembly Hall on Sunday evening at 8pm. The team was dressed in matching grey sweatshirts and seated in the Southwestern bleachers, watching the selection show on the lowered jumbotron.
When their name came on the television, they jumped from their seats and cheered as it was broadcast nationally that the Hoosiers were the second overall ranked team, and a number one seed.
"We had a pretty good idea that we would be a #1 seed, but to actually see it on the big screen, that #1 next to our name, is something, after looking back at it, that I might have never thought was possible," said All-American Graduate Guard Grace Berger. "It's really special to see after where we came from when I first got here in 2018 to where we are now. It's definitely one of those moments that feels surreal."
IU is not quite sure who they will face on Saturday, as they will play the winner of a play-in match-up between Tennessee Tech University and Monmouth.
The Golden Eagles (22-9) earned the March Madness berth by winning the Ohio Valley Conference Tournament. Monmouth (18-15) was awarded their bid after winning the Colonial Athletic Association.
The two teams will battle for the 16th seed on Thursday, March 16th, and the opportunity to face #1 Indiana, on Saturday. The play-in game will take place 9pm at Assembly Hall, in Bloomington.
The Hoosiers have had a week to take in the reality of finishing the regular season as a top 5 NCAA team, and also recuperate from the physicality of a long 5-month stretch.
"We're just all trying to feel healthy. That Big Ten season is no joke," said All-American Senior Forward Mackenzie Holmes.
Holmes finished the year as the nation's second most efficient scorer (68.8%), 7th in total points per game (22.3), and 32nd in rebounding (1.9 per game).
The Second-Round game for Indiana, assuming they advance, will be the winner of the Oklahoma State (21-11) vs. Miami (19-12) on Monday evening at Assembly Hall.
Kiandra Browne Update
Kiandra Browne, who suffered additional aggrevation to a previous hip injury during the final regular season game, against Iowa, is out foir the entire postseason.
"[KB has] been to the doctor. We think what we're dealing with is a sore muscle – probably be out another couple of weeks," said Coach Moren. "The news that we got is about the best-case scenario for the shot she took to the hip."
7 Big Ten Teams in Field of 68
A record-tying seven Big Ten Conference schools received berths into the 2023 NCAA Division I Women's Basketball Championship, it was announced Sunday night. Illinois, Indiana, Iowa, Maryland, Michigan, Ohio State and Purdue earned their way into this year's tournament, led by No. 1 seed Indiana. Big Ten teams making the Tournament in addition to Indiana:
Iowa is the Big Ten's automatic qualifier into the NCAA Tournament after the Hawkeyes won their fifth Big Ten Tournament title and third in five years.Iowa is the No. 2 seed in the Seattle 4 Region and will take on 15th-seeded Southeastern Louisiana on Friday at Carver-Hawkeye Arena in Iowa City, Iowa
Maryland is the No. 2 seed in the Greenville 1 Region and will play host to 15th-seeded Holy Cross Friday in the first round at the XFINITY Center in College Park, Md.
Ohio State garnered the No. 3 seed in the Seattle 3 Region and will play host to first- and second-round games for the first time since 2018. The Buckeyes will tip off Saturday with a first-round matchup against No. 14 seed James Madison at Value City Arena in Columbus, Ohio.
Michigan secured the No. 6 seed in the Greenville 2 Region and will face No. 11 seed UNLV Friday in the first round in Baton Rouge, La.
Illinois received the No. 11 seed in the Greenville 1 Region, and the Fighting Illini will play fellow No. 11 seed Mississippi State in a First Four matchup at 7 p.m. (ET) Wednesday in South Bend, Ind.
Purdue received the No. 11 seed in the Seattle 3 Region and will play fellow No. 11 seed St. John's in a First Four game at 7pm, Thursday in Columbus.