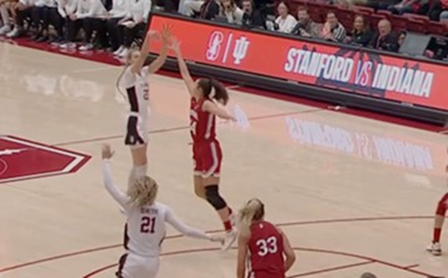 #9 Indiana traveled to Palo Alto, California to take on #15 Stanford. The match-up looked good on paper, with two of the country's top 'Bigs' going head-to-head, and solid outside shooting from both teams, but this game would prove to be all one-sided. A 96-64 final score would build up the resume of Stanford and send Indiana back to the film-room.
After the game, Indiana Head Coach Teri Moren offered that Stanford was a very impressive team, today. "Really, it was just a good old fashioned butt kicking, that's what it looked like," Moren stated. Describing the demeaner with which her team handled themselves, Moren added, "still really proud of our team because they fight to the bitter end and I'm always, always, always really proud of them from that respect."
Coach Moren's pre-game locker room talk reminded the Hoosiers to rebound and not to let Cardinal All-American Senior Forward Cameron Brink grab 22 boards, like she did in their last meeting, back in 2021. She would wind up with 17 rebounds and compliment it with 20 points, 2 assists, and 6 blocks.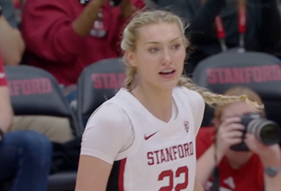 In first 6 minutes of the game, Brink had already scored 8 points and pulled down 5 loose balls, and the Hoosiers found themselves down 16-6 in this battle between two ranked teams, both top seeds in last year's NCAA Tournament.
IU had difficulty closing out on the perimeter, and the Cardinal nailed 6 of 12 attempts from beyond the arc in the first quarter, all coming from different players. Stanford went inside and outside, attacking Indiana's All-American Forward Mackenzie Holmes on practically each possession. And the Hoosiers did not have an answer.
Stanford seemingly owned IU, forcing 7 turnovers, and holding the Hoosiers to 33% shooting throughout the first 10 minutes of play.
The second quarter was more Cardinal dominance. They drove to the basket with authority, they found the open outside shooters, and they kept rebounding until they made a shot. Meanwhile, Holmes and Sophomore Guard Yarden Garzon watched from the bench for much of the second quarter due to foul trouble.
The deficit for Indiana was 28 points as they made their way to the locker room at the break.
The Hoosier troubles were many, but Holmes was ineffective in the paint, getting doubled and out muscled for the first 20 minutes of the game, getting blanked on the scorecard, with no points, rebounds, assists, or blocks.
A minute and a half into the second half, she rebounded, literally and figuartively. Holmes put up her first points and pulled down her first board. But, the Indiana fight was to little, too late, as Stanford continued to move the ball with ease, seemingly hitting about every shot they threw up.
Stanford would end the game with 5 players scoring double digits in their 96 point showcase. Brink and Junior Forward Kiki Iriafen walk away with double, doubles, and the Cardinal shot 50% from the field as a team, sank 11 triples, made 13-15 from the free throw line, secured 50 rebounds, and shared 14 assists in this near perfect display against Indiana.
The Hoosiers, who could make anything happen from the onset, finished the game shooting a mere 35% from the field and less than 16% from the 3-point line. They amassed just 27 rebounds, and turned the ball over 15 times.
Guards Sydney Parrish and Sara Scalia led IU with 15 points apiece. Chloe Moore-McNeil added 11, Lenee Beaumont had 9 from off the bench, and Holmes scored 8. Garzon fouled out in the 4th, after scoring 6 points.
Up next, Indiana returns home to face Murray State on Friday, November 17th for a 7pm tip-off. Stanford will remain in Palo Alto to face Cal Poly at 7pm on Thursday, November 16th.