"Be hard to beat," says North Carolina Women's Basketball Head Coach Courtney Banghart before the start of each game. So far, that advice has been followed to the max by the #6 ranked Tar Heels (6-0).
And trust that UNC will be hard to beat when they visit Simon Skjodt Assembly Hall at 6pm on Thursday to take on the #5 Indiana Hoosiers (7-0) for the annual ACC/Big Ten Challenge, and a battle of top ten teams.
North Carolina has already faced two ranked teams on the road in the past week, Oregon (then #16) and Iowa State (then #5) and defeated each of them solidly. In both games, UNC found themselves down at halftime, but rallied back with a vengeance in the 3rd and 4th quarters to overtake their opponents; even orchestrating an amazing 26-point turn around this past weekend against Iowa State.
"I'm sure both Iowa State and Oregon have walked away saying 'we should've won that game!' Give credit to North Carolina, this is a good team," said Indiana Head Coach Teri Moren. "When you get to this level and play these games, nobody is going to stop playing when they're down . . . No lead is ever safe . . . we are more than aware it's going to be a 40-minute game . . . we're prepared for that."
Led by the ACC Player of the week, Junior Guard, Deja Kelly, the Tar Heels are out-scoring their opponents by more than 25 points, and outrebounding by a +9 margin. UNC has 4 players averaging 13 or more points, with Kelly near 18 ppg, adding 7 steals, 5 rebounds, and 4 assists each game.
All-American Senior Forward Mackenzie Holmes is leading Hoosiers on offense, averaging 20 points per game, with 4 others averaging double-digit scoring: Sara Scalia, (13.3), Yarden Garzon (12.9), Grace Berger (10.3), and Sydney Parrish (10.1). Chloe Moore-McNeil is not far below the double-digit threshold, averaging 9.7 ppg. This year's Hoosiers are also pulling down 38 rebounds (+6) and shooting 34% from beyond the arc.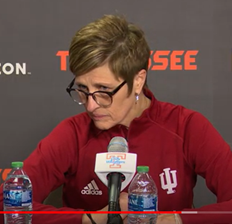 Coach Moren told members of the press that there is not much else to learn about this year's team. She mentioned that for the past couple years the team has been tough, and the only question this year that Coach had, with 7 new players added into the mix, was, "How quickly can they become a tough and gritty team?" Coach Moren answered, "and they've [already] showed that," referencing the toughness her Hoosiers have already demonstrated, just 7 games into the season.
The Indiana v UNC match-up will tip off at 6pm on Thursday, December 1st and be televised on the Big Ten Network. Next up, The Hoosiers host Illionois on Sunday afternoon in their first conference contest.
Grace Berger Update
On Wednesday afternoon, Coach Moren described injured All-American Hoosier Grace Berger as "Day to Day." Berger twisted her knee at the minute and 15 second mark of last Friday evening's match-up against Auburn, at the Las Vegas Invitational.
Berger will not be playing in the UNC Game, but Coach Moren said that she is still providing leadership to the team, both wisdom and experience by talking to the team in practice and from the bench. Moren went on to describe that Grace is "so passionate about this game," and hates to be sitting out, but she realizes through her maturity, that there are other things she can do to help the team.
Notable
Indiana swept the Big Ten Player of the Week awards for the first time this season as Senior Forward Mackenzie Holmes was the player of the week and Freshman Guard Yarden Garzon was named the freshman of the week. The duo led Indiana to a pair of wins at the Las Vegas Invitational, where Holmes average 26.5 points, 8.0 rebounds and shot 88 percent from the floor. Garzon averaged 19.0 points, 6.0 rebounds and 5.0 assists per game
Nationally, the Hoosiers are ranked third in assist/turnover ratio, fourth in field goal percentage, and seventh in scoring offense.
IU jumped to its highest ever rating in the USA Today/WBCA Coach's Poll on Tuesday as it came in at No. 4. It bested its highest ranking of No. 5 set last season and cracked the top 5 in the Associated Press top 25 on Monday, coming in at No. 5.
More IUWBB Coverage