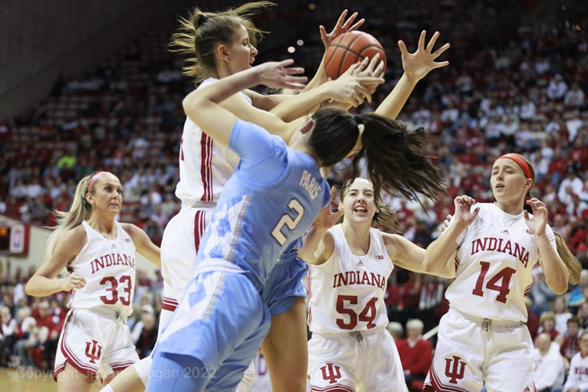 The 5th ranked Indiana Hoosiers took on the 6th ranked Tar Heels of North Carolina in front of a crowd of about 6,000 on Thursday evening at Simon Skjodt Assembly Hall.
10 rebounds, 6 assists, and 27 points after ten minutes of play . . . The Hoosiers took a minute to get into the swing of things after trailing 7-0, but their groove kicked in, winning the first quarter 27-21 over North Carolina.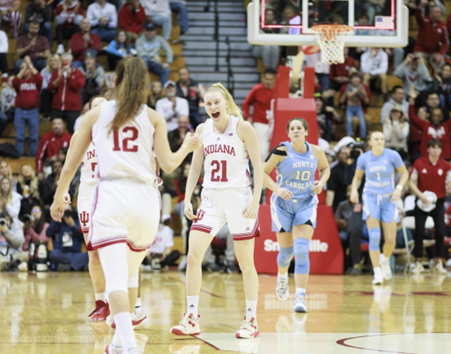 Indiana made some interesting adjustments in the first quarter; most notably, playing Henna Sandvik, the Freshman Guard from Finland. In a rare first quarter appearance, Sandvik sank a three-pointer, pulled down a valuable offensive rebound, and had a significant presence in 5 minutes of play in the first quarter.
The Hoosiers came out swinging in the second quarter, climbing their lead to 13 with 4 minutes remaining in the half. Their energy was high, and they played with incredible confidence on both offense and defense, setting the tone of the game.
With 3 and a half minutes left in the half, Chloe Moore McNeil reigned with vengeance, helping to protect IU's lead with a monster rejection of a midrange, baseline shot. She also made a very strong drive to the basket on a following possession, drawing the foul and hitting the 'and one' before the first half expired. Moore-McNeil would wind up with 10 points in the first half, shooting 3-3 from both the field and the free-throw line.
Indiana pulled further away, leading 49-33 at halftime, although the Tar Heels are a resilient team, coming back from halftime deficits on each of their previous three games, to win with authority. But IU would not rest on their lead, and they stifled North Carolina to just 35% shooting from the field, and edged them in rebounds, the first time this has happened to the UNC this season.
The scoreboard read 87-63 and the final buzzer would sound, with the student section of Assembly Hall chanting, "Just like last night," making reference to the IU Men's team and their big win over North Carolina less than 24 hours prior. Indiana performed a clean sweep during this year's Big Ten vs. ACC Challenge.
The Hoosiers played every bit like the 5th nationally ranked team that they are, and all without their leader, All-American Grace Berger, who is still sidelined with a knee injury. Indiana Head Coach Teri Moren wore a Grace Berger shirt during the game to help to keep her spirit alive on the bench.
"The kids told me that I have to wear it now, every night," Coach said with a huge smile. "But what they don't know is that it is really comfortable, and I would do that if I need to," she joked. She also made a pitch for all of Hoosier Nation to get onto the IU Student NIL site and support Hoosier Student Athletes.
The Hoosiers owned this game on so many levels, and seemingly did so with ease. The level of fun they were demonstrating on the court radiated through bright smiles, fist pumps, and a chemistry on the court that will likely take this team far.
"It is clear that we have great chemistry," said Coach Moren. "We have made sure through the recruiting process, that the pieces we are bringing in all say, 'it's not about me it's about we' and have embraced the idea that it's going to take all of us."
And all of them looked great tonight . . .
All-American Senior Forward Mackenzie Holmes was unstoppable, leading all with 25 points, adding 5 rebounds and 3 assists. Junior Guard Sydney Parrish lit it up on both sides of the court, scoring 24 and grabbing 6 boards. Sara Scalia added a dozen points; Chloe Moore-McNeil had 10; and, Yarden Garzon had a great game all over the court with 9 points, 7 rebounds, and 7 assists. Coach Moren said that at this point, they are just watching Garzon, a new addition to IU this year, develop and get better.
"Even though [Garzon] is a Freshman by class, she doesn't play like a Freshman, doesn't act like a Freshman," said Moren. "There's a maturity level to her I haven't seen in a Freshman, and this is my 30th year of coaching."
Next up, Indiana hosts Illinois in the first Big Ten Conference match-up at 2pm on Sunday, December 4th.
IUWBB Player Updates
Kaitlyn Peterson has left the IUWBB program – at this point, no further information has been made available
Grace Berger's status was stated as "day to day' by Coach Moren, but she has changed her language to "out indefinitely." Coach stated that she is "not exactly sure when [Grace] will be able to return." Although she reported that Berger is in great spirits, rehabbing every day.
Kiandra Browne is still out with a thumb injury and is expected to return early in January. She is still rehabbing and has gone from a cast to a splint.
More IUWBB Coverage