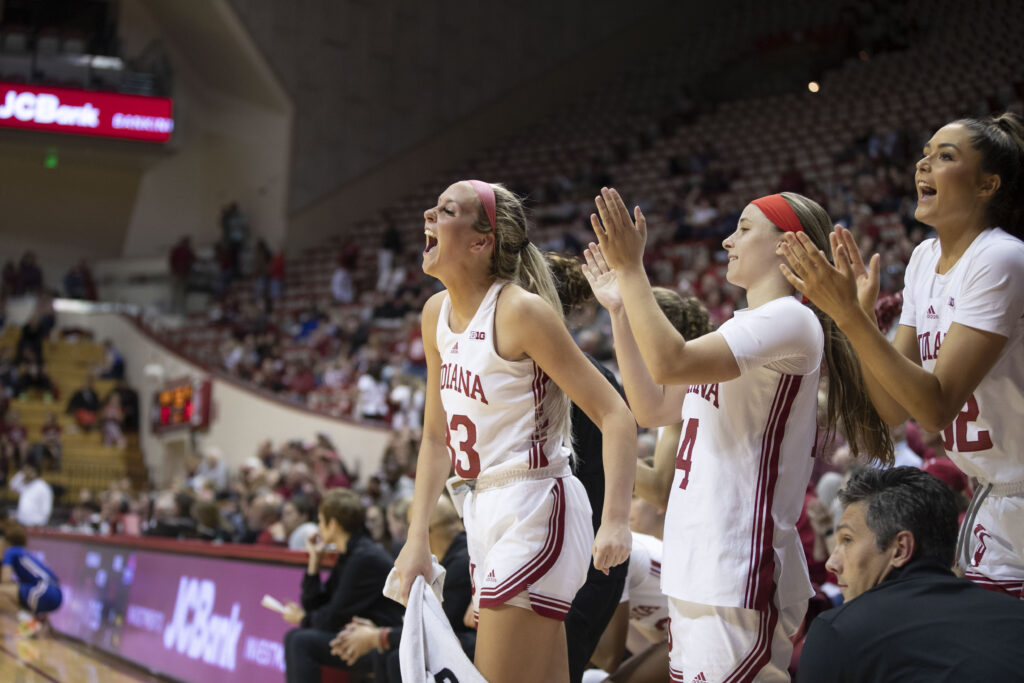 #6 Indiana (17-1 / 7-1) heads to Ann Arbor, Michigan to take on the #14 Michigan Wolverines (16-3 / 6-2) Monday evening at 8pm. The Crisler Center will be the venue where these two titans collide for the first time this season. The game can be watched live on the Big Ten Network.
This marks the second consecutive ranked, road opponent that the Hoosiers will face. IU solidly defeated #21 Illinois 83-72, last Thursday, in a game in which All-American Senior Forward Mackenzie Holmes put on a clinic for how to score points, dropping 30 and rebounding 10. This was Holmes' second career 30/10 performance, the first happening earlier this season against the Spartans, during Indiana's only loss of the year, when she had a career high 32 points and added 10 rebounds.
The Wolverines are on a three-game winning streak, holding each of their three most recent opponents to less than 60 points. Michigan's only losses this season come at the hands of Toledo, #2 Ohio State, and #10 Iowa. In their most recent match-up, Michigan never trailed Rutgers on the road, leading by as many as 26 points. Michigan's trio of top season performers all scored in double figures against the Scarlet Knights, led by Graduate Forward Emily Kiser's 25 points, four rebounds, and an assist. Graduate Forward Emily Kiser averages a team-high 17.6 points and 6.8 rebounds per game, while Sophomore Guard Lalia Phelia adds 16.7 points per game. The Wolverines are averaging 77ppg and shooting 48% from the floor.
Indiana will have to spread the ball around well to in this contest, as Michigan plays one of the tightest man-to-man defenses in the nation. As always, Holmes can expect to be double-teamed in the paint, so the Hoosiers will need their perimeter shooting squad to maintain confidence and accuracy.
These two teams are very evenly matched, but Indiana has a deeper bench, with a history of productivity. If Indiana can rebound well against this stingy Wolverine defense, they could gain significant advantage through limiting Michigan's second chances.
Look for Indiana Head Coach Teri Moren to feature whichever Hoosier can get hot from beyond the arc. Guards Sydney Parrish and Yarden Garzon, who are both fantastic shooters from the 3-point line, also have a tendency to get in early foul trouble, and IU will need to play aggressive defense without putting Michigan, a 78% free-throwing team, to the line.
Up next, Indiana returns to Simon Skjodt Assembly Hall to host #3 Ohio State (19-0 / 8-0) on Thursday, January 26 at 8:30pm.
Notable
Indiana matched its best start through 18 games in the win at Illinois, marking a 17-1 record this season. It's the best start since the inaugural season in 1971-72 when the team finished 17-2.
Ninth year Head Coach Teri Moren recently secured her place in Indiana University Women's Basketball history, becoming the program's all-time winningest Coach, picking up her 189th career victory at the helm of the program
More IUWBB Coverage