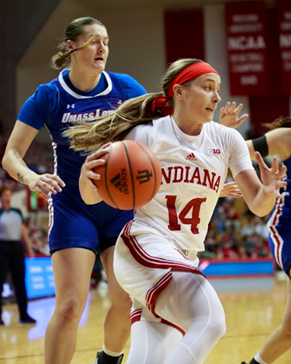 Indiana Hoosiers Women's Basketball is off to the best start in school history with a 92-83 win over #13 Michigan on the road Monday Night at Crisler Center in Ann Arbor, Michigan. The Hoosiers are 18-1 and 8-1 in the Big Ten, and tied with #2 Ohio State for the Conference Lead.
Great Hoosier ball movement was the story of the first half, as Indiana played selfless basketball and was patient to await the best look. 12 IU assists and 7 different Hoosiers scored in the first 20 minutes. All-American Forward Mackenzie Holmes, the NCAA's second most efficient scorer from the field, led all with 15 first-half points. Senior Guard Sara Scalia came off the bench with 12 points in 12 minutes of play in the first half. Heading into the locker room, Indiana was on top 48-38.
The Third quarter brought more back and forth play from these two top-15 teams. But 3 minutes into the 4th quarter, Holmes was benched after picking up her 4th foul. Michigan would push the ball into the paint, challenging Freshman Lilly Meister as she filled in for Holmes. Meister would hold her own, pulling down rebounds, putting up a big block, and scoring a big pair of free throws down the stretch.
The Wolverines came within 6 points with 4:40 to play. Indiana's response was to allow All-American Graduate Guard Grace Berger to be Grace, a favorite quote of Indiana Head Coach Teri Moren. Berger took control over the remaining minutes, stifling the Wolverine comeback efforts on both sides of the court . . . a common happening in Indiana games that go to the wire. The Hoosiers find ways to win!
Controlling the boards 41-24 and sharing the ball through 18 assists were the biggest differences in this contest. Indiana scoring 52% from the field and 50% from 3-point range obviously doesn't hurt the effort, but eliminating Michigan's second chance scoring opportunities was perhaps the most important ingredient in the 'beat Michigan at home' recipe.
Indiana had six players in double figures with Holmes leading the way with 25 points and 10 rebounds. Scalia added 19 points off the bench and knocked down three 3-pointers. Junior Guard Chloe Moore-McNeil and Junior Forward Sydney Parrish added 12 points each. while Freshman Guard Yarden Garzon and Berger each scored 10.
Next up, Indiana will host #2 Ohio State (19-1 / 8-1) on Thursday night at 8:30pm)
More IUWBB Coverage