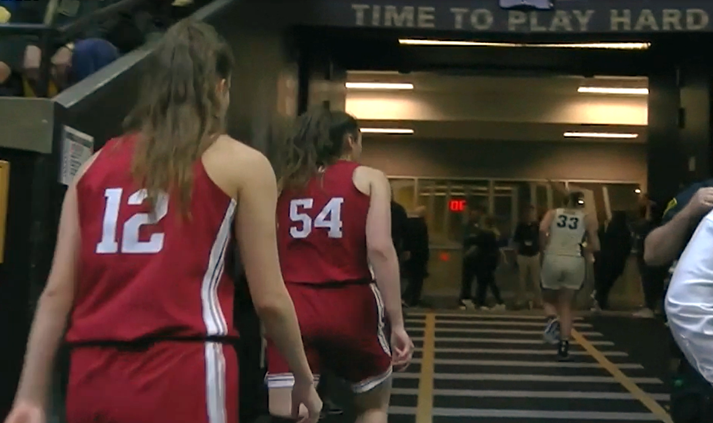 The #4 Indiana Hoosiers (22-1 / 12-1) traveled to West Lafayette to take on their archrivals, the Purdue Boilermakers (15-7 / 6-6). A sold-out Mackey Arena was the site for this Sunday afternoon battle between Big Ten foes, just the 3rd time in Purdue program history that they filled Mackey to capacity.
Both teams entered the match-up with winning streaks, Indiana won their previous 9 and Purdue their last 3, each teams registering wins against former #2 Ohio State during that stretch. But it would be the Hoosiers that kept their streak alive, defeating the Boilermakers 69-46, and jumping back into sole first place in the Big Ten Conference. This makes a clean sweep for the weekend, with the Men's Basketball team taking down #1 Purdue the day before at Assembly Hall.
Indiana had a 7-0 run to start the game, and IU Junior Guard Sydney Parrish led the offensive charge with for the Hoosiers. But both teams would struggle from the field in the opening quarter, Indiana shot under 30% and Purdue just hitting a third of their shots. The end of the quarter brought a 14-10 Indiana lead.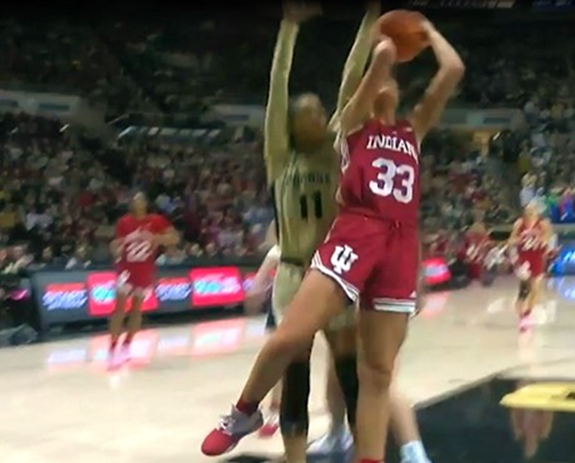 After the game, Parrish, an Indiana native who spent her first 2 collegiate years playing basketball at Oregon, spoke about the instate rivalry between these two teams.
"It was a little more personal as I am the only player from Indiana on the [Hoosiers]," said Parrish. "I had to step up and be that person on our team to show who the best team in Indiana is."
By the second quarter, Purdue and Indiana were back and forth, with each team demonstrating solid Big Ten basketball. Purdue took an early second quarter lead only to have Junior Guard Chloe Moore-McNeil get hot, throwing up a pair of threes and strong drive to the basket, providing IU's first 8 points of the quarter. Purdue had been successful throughout much of the half, doubling up on All-American Senior Forward Mackenzie Holmes, blanking the leagues second most efficient scorer for the first 17 minutes of play. She finally found the net with a layup off of an Indiana fastbreak with 3 minutes left in the half.
"Mack knew the double was coming and she continues to handle it in a mature way," said Indiana Head Coach Teri Moren.
At the end of 20 minutes of play, Indiana led 31-26, but the time in the locker room for the Hoosiers was invaluable. IU came back onto the court with a fury. The Hoosiers went 7-11 in the 3rd quarter, pulled down 10 rebounds, and held the boilermakers to just 2 points.
"Coming out in the third quarter we knew we had to keep our foot on the gas," said Parrish. "We knew where we were going to win was getting stops defensively."
Indiana certainly accelerated in the 3rd, as they found a way to get Holmes involved in the offense, scoring 11 of her 15 in the 3rd. Holmes continued her perpetual trend of 'doing Mack like things', as Coach Moren often says. It was also important that Indiana was successful in getting Purdue's Senior Guard Jeanea Terry, in foul trouble. Terry sat for about half of the quarter.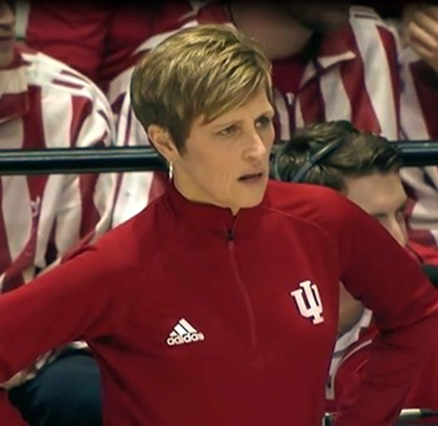 In the fourth quarter, the Hoosiers looked to substitute fun for their previous intensity. Parrish even razzed the Boilermaker student section after hitting a pull-up jumper, motioning for them to hush by turning to them and placing her finger to her mouth in the 'shush position'. About 90 seconds later she hit from three and further turned to stare down the record-breaking crowd at Mackey Arena.
The Hoosiers definitely put on a show, and decisively won this match-up against a strong team in a hostile environment.
"What a great crowd," exclaimed Coach Moren after the game. "It was a great environment for Big Ten Women's Basketball, even more than that, for Women's Basketball!"
Collectively, Indiana shot well below their season average, hitting 40% from the field, but hit 9 triples, and pulled down 41 rebounds. IU had four players in double figures: Holmes and Parrish each scored 15, Senior Guard Sara Scalia had 14 points, and Moore-McNeil put up 13 and pulled down 9. 12 Hoosiers saw play during the game, but only Scalia contributed to the offense from off of the bench.
The Boliermakers had 8 players who contributed offensively with Lasha Petree scoring 13 and Abbey Ellis with 10. Purdue moves to 15-7 / 6-6 and will face Rutgers (9-14 / 4-8) on the road later this week.
Next up, Indiana will host #5 Iowa at Simon Skjodt Assembly Hall on Thursday evening, a 6:30pm tip-off.
More IUWBB Coverage