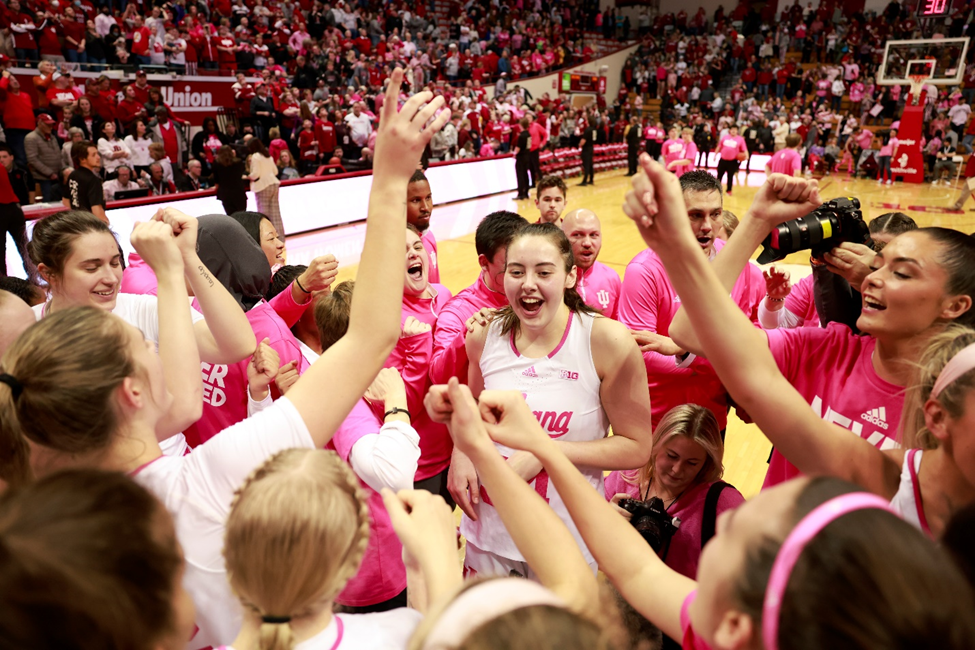 #2 Indiana (23-1 / 13-1) is on a serious winning streak, having defeated their last 11 opponents, 5 of which being Top-30 teams. IU has not lost at home, nor have they been defeated during this calendar year. Their most recent victory was a home match-up against the #5 team in the country, the second time this season they have battled a #5, and the second time they have defeated a #5.
But Iowa is different, having defeated the Hoosiers 3 times last year, all within a 2-week timeline. Iowa also features the reigning Big Ten Player of the Year, a favorite for this year's National Player of the Year, and one of the most productive 'Bigs' in the game. Pre-season, this Iowa team was believed to be a Final Four contender. While Indiana was believed to be a Top 15 caliber team, it was not conceived that IU could shut down the Hawkeyes with relative ease, especially when they didn't necessarily play extremely well. As a matter of fact, the stat sheet for the Indiana/Iowa game looks pretty similar.
The Hoosiers shot 47% with 37 total rebound while Iowa shot 48% with 38 total rebounds. IU had 20 points in transition play and Iowa, 21. Even the assist totals were 17-15, in favor of Iowa; so, how were the Hoosiers able to come out on top during this battle for first place in the Big Ten? And what must Indiana do to beat #13 Ohio State for a second time this season, this time in Columbus, Ohio.
Here are 5 important reasons that the Hoosiers were victorious against the Hawkeyes . . .
Turnovers
Indiana had 12 turnovers throughout the game, but cut their 8 first half give-a-ways in half, turning the ball over just 4 times in the second half. Indiana either felt more at ease in the third and fourth periods or made some necessary adjustments. one can assume both are true. Composure is a strength of Indiana, but it sometimes takes some playing time to achieve. This was a very fast paced game, starting out.
It is also evident that the Hoosiers are extremely adaptive, as they have shown (and shone) in the third quarter of almost every game they have played this season. This reality is due in at least part to the incredibly analytical staff Coach Moren has assembled. Some magic seems to be brewing in the halftime locker room.
By comparison, Iowa turned the ball over 18 times, also able to cut their number in half for the last 20 minutes of play, but in a game between two such evenly matched teams, every possession matters. Indiana gained a net 3 points off of turnovers with 14, opposed to 11 created by the Hawkeyes.
This season, Iowa is only averaging 14 turnovers per game, 4 less than the amount they had against Indiana, and Iowa's opponents are averaging 15, three more than the Hoosiers had. This accounts for 7 more Hoosier possessions against Hawkeye average.
Three-Point Shooting
In the three losses that Indiana suffered at the hands of Iowa last season, the Hoosiers made 14 of 56 triples, for 25%. This game, Indiana sank 9 or 18 attempts, scoring 50%. The perimeter shooting has greatly elevated Indiana's game in a number of ways. Sure, a three-pointer is worth more than a standard field goal; however, the threat of being able to score from beyond the arc opens up the inside scoring . . . the bread and butter of Hoosier offense.
While Mackenzie Holmes is a true All-American and is considerably the most effective power forwards in the league, the reality of the Indiana triple threat greatly improves her ability to receive the ball at the low post. Her footwork and soft touch inside the paint speak for themselves, but with teams being required to guard Indiana around the perimeter, it helps to lay the foundation for Mack being able to do Mack-like things.
The threat of the long ball coupled with the necessity to double-team Holmes, or at the very least position for corner help defense, also opens up lanes for All-American Grace Berger to pull up for a mid-range shot, or for Guards Sara Scalia and Chloe Moore-McNeil to drive the basket with greater ease.
Getting to the Line
While Indiana has had challenges at the free-throw line this year, and the match-up with Iowa was no exception to the difficulties at the stripe, just getting there is sometimes half the battle.
Indiana scored 22 points from free-throw shots, and even though they missed 12 shots (65%), getting to the line so many times means several things, perhaps most importantly, Indiana was getting Iowa into foul trouble. In all fairness, Indiana committed their fair share of foul throughout the game, but the Hawkeyes only reached the stripe 23 times, and made just 52%.
That net gain of 10 points Indiana favored at the line became fairly important in a 9 point victory!
Leadership of Grace Berger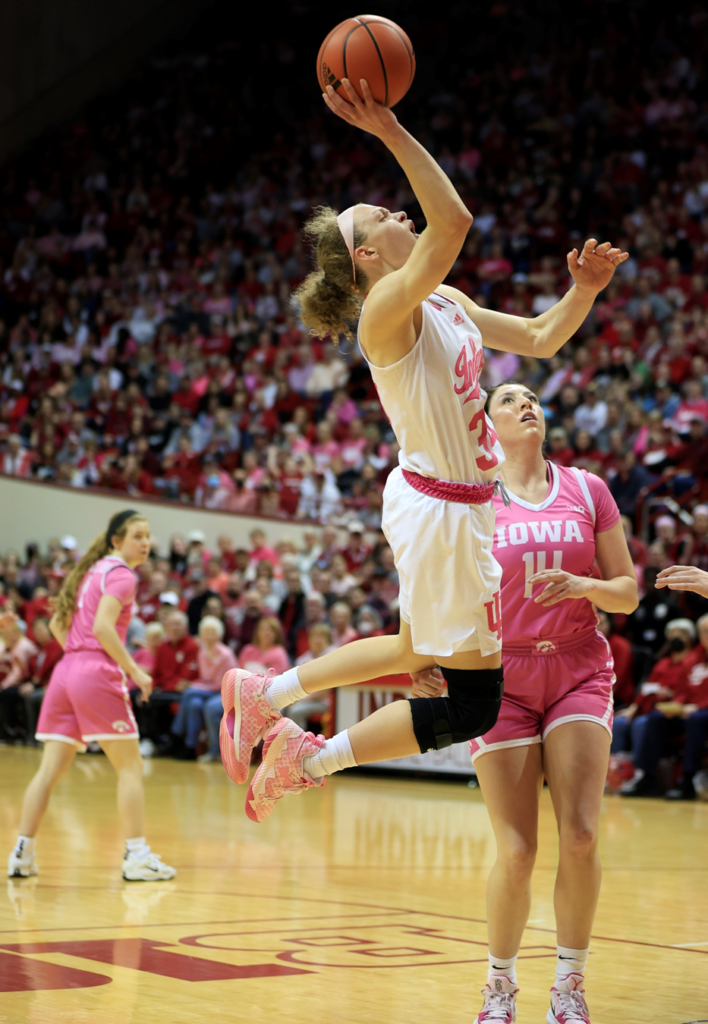 In her 140 collegiate basketball games, Grace Berger has scored over 1700 points, pulled down over 700 rebounds, amassed over 500 assists, and has shot 45% from the field, 30% from beyond the arc, and made 74% of her free throws.
An All-American, a 3-time All Big Ten First Team Honoree, An Academic All Big Ten Honoree, a watch-listed player for about every possible NCAA award, and a participant on the 2021 USA Basketball Women's AmeriCup Team, Grace has had an incredible, highly decorated student athletic career; yet her value to the Indiana Hoosiers cannot even begin to be measured by the stat page.
Berger has been a leader within this program since her arrival. She demonstrates a combination of confidence and poise like few others can. Year in and year out, Berger brings it on gameday. Coach Moren talks about the intangibles required to win the big games, such as the victory against Iowa this past week. Those intangibles include the on-court live-play decisions being made, the vision of the court, the reading of defenses, and the toughness demonstrated. Berger leads this Indiana team with both her play and her determination, on and off the court.
That extra push needed to pull out a close game . . . Berger; she makes everyone around her better!
The trust Coach Moren and her staff has with Grace Berger has been earned. Trust to run the offense, trust to play while in foul trouble, trust to pull out the big play.
There is no one in the league I would rather have the ball during the closing minutes or seconds of a game.
Defense of Mackenzie Holmes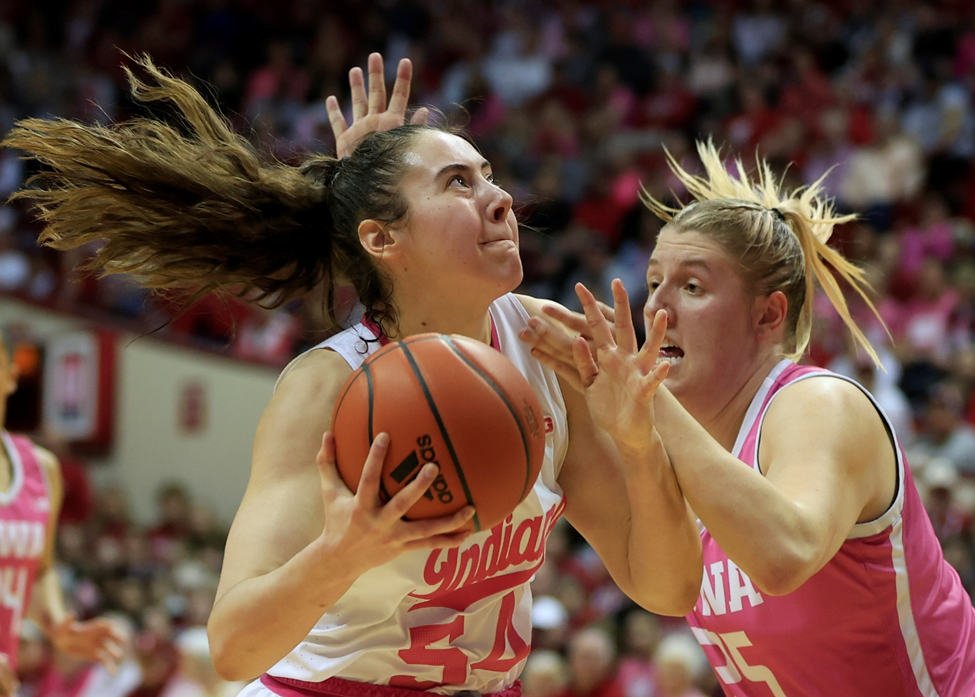 Averaging 22 points per game and scoring at the nation's second highest efficiency rate of 69%, All-American Mackenzie Holmes is well-noted for her offensive prowess. Fancy footwork in the low block, switching hands in mid-air, and sinking the ball from any angle with any number of defenders has been her motif operandi. Thursday night against Iowa, she demonstrated to the nation that there is more to her game than simply scoring.
Holmes had the mammoth task of guarding fellow All-American Monika Czinano, the Hawkeye's 6'3" fifth-year Senior Center that has led Division 1 in Scoring Efficiency for the past two year, came in second the year before that, and is currently in 3rd place, behind Holmes.
Holmes decisively won the battle against Czinano on both sides of the court, shutting her down for just 6 total points (her third lowest career point total as a starter), and helping to get her in foul trouble (she fouled out in the 4th quarter). Meanwhile, Holmes was able to put up 24 points of her own, with relative ease.
What Indiana must do to beat OSU on the road . . .
Contain Jacy Sheldon – The First Team Big Ten Guard for Ohio State was injured during the last match-up. Sheldon is averaging almost 15 ppg and is the senior quarterback for this team. It is likely that Indiana's Chloe Moore-McNeil will face off against Sheldon on the defensive end. Moore-McNeil is coming off of a spectacular showing, defending Caitlin Clark of Iowa just a few days ago.
Break Ohio State's Full-court Pressure – Indiana will not have Hoosier nation to deafen the arena in Columbus, so they will need to rely on Moore-McNeil, Berger, and Senior Guard Sara Scalia to push the ball past the timeline. In their previous game, IU saw success involving their corner guards in transition, hitting both Freshman Yarden Garzon and Junior Sydney Parrish on the fast-break.
Shoot 45% from the Field – Indiana cannot bank on Ohio State only shooting 38% again. The Hoosiers will be walking into the enemy's den, and the noise will be working against them this time. Getting themselves into a deficit against the Buckeyes while on the road will be a difficult challenge to overcome. If the Hoosiers can set an early tone with makes from beyond the arc as well as drives to the basket, their confidence will increase, and it will be much easier to spread the offense. It will likely take 45% or better to win tonight.
Hit Free-throw Shots – Indiana has struggled from the line this year, and specifically against Iowa in their last contest. In a physical game that is anticipated, getting to the line should not be a problem, but it will be necessary to hit those shots in order to win in Columbus.
Ohio State (21-4 / 10-4) has lost 4 of their last 6 games after starting the season 17-0. All of their losses have been to Top 30 ranked teams, however. The Buckeyes have 6 players averaging double-digits, including Senior Guard Taylor Mikesell with just under 18ppg.OSU can also rebound extremely well and they force an incredible number of turnovers with their crafty full-court press. Additionally, the Buckeyes can score, averaging 83 points while shooting 47%.
Cotie McMahon a Buckeye Freshman Forward, is perhaps Hoosier Guard Yarden Garzon's biggest competitor for Big Ten Freshman of the Year, as McMahon averages more than 13ppg, coupled with 4.2 rebounds and 2.2 steals.
Gametime is scheduled for 7pm at the Schottenstein Center in Columbus, Ohio. The game will be televised on the Big Ten Network.
More IUWBB Coverage