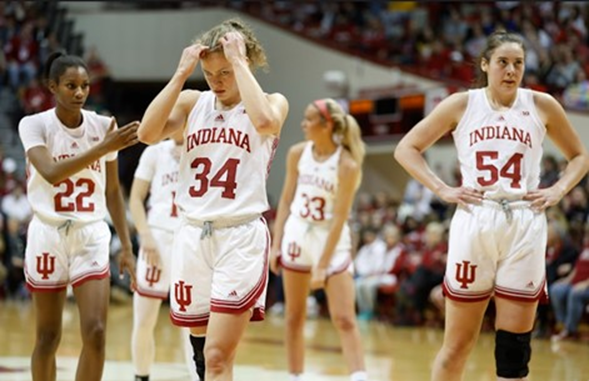 #2 Indiana (24-1 / 14-1) and #12 Michigan (20-5 / 10-4) will battle it out tonight at Simon Skjodt Assembly Hall. Tip-off is slated for 8:30pm and the game will be televised on the Big Ten Network.
The match-up will be yet another battle of ranked opponents. Indiana, who is on a program high 12 game winning streak, has won all 9 of their games this season against those that are either ranked or receiving votes.
Michigan has a very balanced game, averaging about 48% from the field, including 35% of there 3-point attempts, and 78% free-throw efficiency. They average 16 assists and 36 rebounds, while turning the ball over less than 16 times per game. The Wolverines are on a 4 game win streak, and are looking to avenge the 92-83 loss suffered at the hands of the Hoosiers earlier in the season in Ann Arbor.
In their most recent game, Michigan was led by Leigha Brown, who tallied her 5th double-double of the season, contributing 21 points, 10 assists, 5 boards, and 3 steals. Emily Kiser turned in 15 points and 5 rebounds, with Maddie Nolan and Jordan Hobbs reaching double figures as well.
During Indiana's tangle with #13 Ohio State on Monday evening, All-American Senior Forward Mackenzie Holmes scored a career high 33 points for her 3rd season game with 30+. All-American Graduate Guard Grace Berger added her 2nd season double-double, dropping 16 and picking up 10. And, Senior Guard Sara Scalia had a personal season-high 24 points, including hitting 6 triples.
Indiana continues to impress, shooting 50% (3rd best in the country) while holding their opponents to just 60 points per game (ppg). The Hoosiers are a national leader in points (10th), assists (7th), 3-point % (18th), turnovers (20th), and scoring margin (20th).
Next up, Indiana will host Purdue (17-7 / 8-6) on Sunday, February 19th with a Noon tip-off.
More IUWBB Coverage